Tires & Brakes
HONDA TIRE SOURCE LOWEST PRICE GUARANTEE*
If you find a lower advertised price within 30 days of purchasing any of the following tire brands (Michelin, Toyo Tires, Goodyear, BF Goodrich, Dunlop, Firestone, Uniroyal, Hankook, Yokohama, General Tires, Pirelli and Continental), your participating Honda dealer will match the lower price!
Shop for Tires
Your Honda dealer is the best place to buy your tires
Our Honda dealers offer competitive pricing and carry original equipment tires for your Honda. Tires from the following manufacturers can also be purchased at your local Honda dealer: Michelin, Bridgestone, Toyo Tires, Goodyear, Kelly Tires, BF Goodrich, Dunlop, Firestone, Uniroyal, Yokohama, Gislaved, General Tire, Continental, Hankook and Pirelli.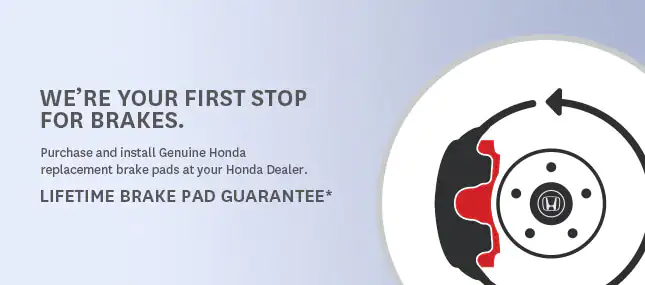 LIFETIME BRAKE PAD GUARANTEE†
When you press your Honda's brake pedal, the friction material on the brake pads is pushed against the brake discs to slow or stop your vehicle. Each time the brakes are used, a small amount of this material is worn off, eventually requiring replacement. Your Honda Dealer understands how integral braking is to your safety. That's why we're proud to offer a Lifetime Brake Pad Guarantee* on Genuine Honda replacement brake pads.
*Should you find a lower advertised price within thirty (30) days before or after the purchase of qualifying tires from a participating Honda dealer, present the dealer where you purchased or intend to purchase qualifying tires with proof of the advertised price and they will match the lower price. Offer does not apply to quotes or advertised prices from outside Canada, online auction sites, wholesalers, online retailers that have no physical stores in Canada, close out/liquidation/clearance sales, advertising errors or misprints, restricted offers, or where quotes/advertised prices are on tires with limited/no stock availability. Qualifying tires must be purchased and installed at a participating Honda dealer in Canada. Advertised item must: (i) be an in-stock brand (excluding Bridgestone) and be of the same brand, size, model, sidewall, speed and load rating; (ii) be sold through an authorized retailer located in Canada; and (iii) be in Canadian dollars. Lowest Price Guarantee does not apply to costs associated with labour, valve stems, mounting/balancing, disposal fees and applicable taxes. Some restrictions apply. Offer subject to change or cancellation without notice. Ask your Honda dealer for more details.
† Purchase and install select Genuine Honda replacement brake pads at a participating Honda dealer and your dealer will provide future replacement brake pads for the same brake component system at no charge, for as long as you own the vehicle.
See Current Terms and Conditions