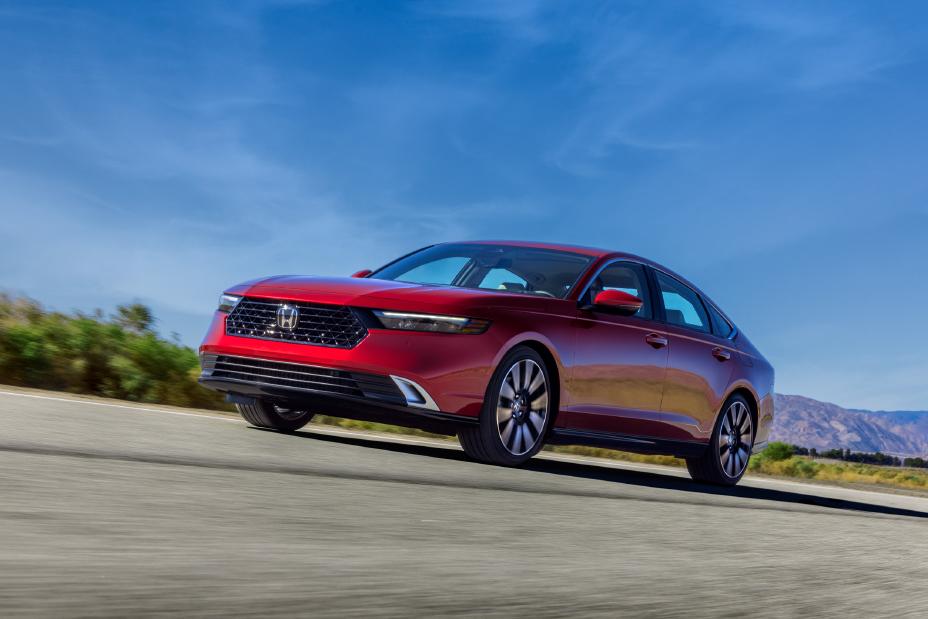 Honda is the winningest brand in Car and Driver 10 Best history
Sleek, powerful and electrified, all-new 2023 Accord honored for a record 37th time, including a streak of 25 consecutive years
11th-generation Civic repeats as 10Best for simple and sporty design, class-leading safety and fun-to-drive personality – and arrival of the all-new Type R
In a show of design and engineering excellence, Honda has earned two coveted Car and Driver's 10Best Cars awards. The magazine's editors honoured the all-new 2023 Accord and the Civic lineup that includes the all-new 2023 Civic Type R, the most powerful car Honda has ever sold in Canada.
"You can feel the award-winning richness of the Accord before you even leave the parking lot," said the editors at Car and Driver. "It's smooth, quiet, refined to the nth degree, and good-looking. With a spacious back seat and a cavernous trunk, it serves well as comfortable transportation for five adults."
"The reason the entire Civic lineup wins 10Best is because even the most sensible models—the base sedan and hatchback—are a joy to drive, with balanced chassis, refined road manners, and accurate steering," said the Car and Driver editors. "Both the Type R and the Si are offered only with a six-speed manual. These are "if you know, you know" cars. But the best thing about the Civic is that its affordability across a wide range of models means more drivers can join in on the fun."
With 68 total awards, Honda is the winningest brand in Car and Driver 10Best history. At least one Honda has earned a spot on the annual list since the award's inception in 1983. Accord is also the most awarded vehicle in Car and Driver 10Best history by a wide margin. It has made the prestigious list an incredible 37 times, including the last 25 years consecutively. Click here for the complete 2023 Car and Driver 10Best Awards story.
"The Honda Civic and Accord are renowned as exceptional vehicles, to have them recognized on Car and Driver's 10 Best list is something we're very proud of," says Steve Hui Assistant Vice President Honda Canada. "This honour confirms their quality and our commitment to producing some of the best passenger cars in the world."
The all-new 2023 Honda Accord reinvigorates the midsize sedan segment with sophisticated design and an advanced fourth-generation two-motor hybrid-electric system that's more powerful for a sporty and exhilarating driving experience, while also achieving high fuel efficiency. Inside, a new sporty and modern interior offers fine craftsmanship, high-quality materials and must-have tech features including Honda's largest touchscreen ever and Honda's first integration of Google built-in for seamless on-the-go connectivity.
Learn more about the new Honda Accord here.
A major gateway to the Honda brand, Civic has been Canada's best-selling passenger car for 24 years and was the winner of the 2022 North American Car of the Year award. The Civic Sedan, the performance Civic Si Sedan (both built in Canada) and the sporty Civic Hatchback deliver fun-to-drive dynamics, stylish design and an award-winning interior with cutting-edge standard technology.
For 2023, the all-new, high-performance Civic Type R joins the lineup as the ultimate hot hatch with a racetrack-tuned suspension and 315 hp. It's the perfect capstone to the 11th-generation Civic lineup, the sportiest, most fun-to-drive Civic in Honda history. Learn more about the Honda Civic lineup here.
To subscribe to the latest Honda Canada news and updates, please visit www.hondanews.ca.
About Honda Canada
Honda Canada Inc. was founded in 1969 and is the parent company for both Honda and Acura vehicle brands in Canada. Since 1986, the company has produced Honda engines and almost 10 million cars and light trucks at its Alliston, Ontario manufacturing facilities, where the Honda Civic and Honda CR-V are currently built. Honda Canada has invested over $6.5 billion in Canada, and each year sources over $3 billion in goods and services from Canadian suppliers. Since its inception, Honda Canada has sold over five million Honda and Acura passenger cars and light trucks in Canada through a dealer network of more than 280 dealerships across the country. For more information, please visit www.hondacanada.ca.